A real-life trip to the wild west
Located in beautiful west Texas, the Covered S Ranch is a working ranch where guests can experience the ranch's rustic elegance and modern amenities.
Our one-of-a-kind accommodations, which can host up to 50 guests, are thoughtfully woven into the ranch's landscape. Ranging in size from one-bedroom suites to a five-bedroom home, we offer four distinct styles of lodging: Hacienda suites, bunk houses, homes, and R.V. spots for glamping. The design echoes home more than hotel – with deluxe amenities, custom furniture, and decor that showcases a distinctive Western heritage.
Authentic and rustic
The Covered S Ranch is not just a destination for visitors to enjoy the Wild West — it's a real, authentic working ranch. Our expert chef will delight you with gourmet dining you'll never forget, while our friendly staff will help you with any of your needs. And the best part? You get to experience all this from the comfort of our beautifully appointed guest rooms with private baths.

It's all about the details
We offer packages that include meals, accommodations, and activities. You'll need one package or another to partake in all of our cowboy fun — from branding cows to horseback riding or cattle herding. We can even have someone pick you up at your local airport if necessary!

Authentic West Texas getaway
The Covered S Ranch offers all the amenities of a luxury hotel while providing an authentic experience. It's a place where everyone can feel comfortable and at home - whether you are looking to play some cards or just want to enjoy the gorgeous sunset with a drink in hand.

A rustic escape, with all the luxuries
From reunions to family gatherings and everything in between, we can't think of any better place to get together with your friends and loved ones than the historic Hacienda.
Comfortable living area with a large fire place.
Full bar with cooler for drinks and ice machine.
Craps table, Roulette table, and four games tables.
Pool table in the center of the room. It will also convert to a Ping-Pong table.
Large kitchen with long island for serving meals buffet style.
Weddings
The perfect venue for your perfect day. Covered S Ranch offers personalized attention to each wedding party without sacrificing any luxuries or amenities; we want you to feel at home with us!
In addition to having breathtaking views, we also have overnight accommodations with our guesthouse and cabin rentals available on site.
Private Events & Reunions
The Covered S Ranch is the perfect set-up for any formal or casual gathering, with acres of space to explore, rustic elegance, and amenities that will make your event unforgettable.
Corporate Events
We have acres of space to explore, with plenty of wide open spaces that will make your Corporate Events truly extraordinary. Whether you're looking for an intimate setting or a large gathering space, our ranch is the perfect location.
The Hacienda
The Hacienda is comprised of a 40 x 80 foot Great Room and five guest rooms with 12 beds. With a covered porch, a firepit, a lighted basketball court, and breathtaking views, this is the perfect place for your next company event, reception, family reunion or quiet getaway. Free Wi-fi included.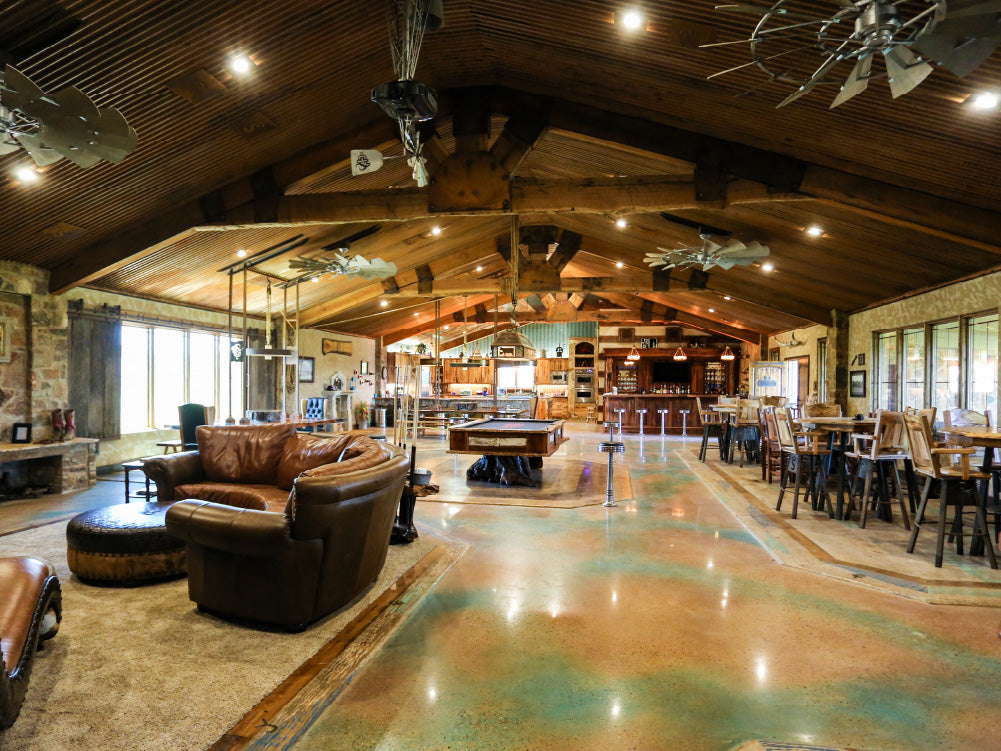 The Great Room
Everything about the Great Room is uniquely rustic and beautiful. It contains a comfortable living area with a large fire place. There are two very unique riverbed dining tables that will each seat 12 guests. The room also has a full bar. There is a Craps table, Roulette table, and four games tables. There is also a beautiful Pool table in the center of the room. The kitchen area has a long island for serving meals buffet style. There is also a large pantry/laundry room.
Cattleman Room
Located in the west wing, the Cattleman room has an outside entrance with its own private bath. Rustle up the family for a stay with all the modern conveniences housed in a warm, homey atmosphere. The Cattleman has both a king and a twin-size bed sleeping three comfortably. Amenities include a private bath, a Keurig coffee maker, water, cable TV, and internet. Guests control the central heating and air thermostat for the room. Stay includes all meals prepared by our onsite ranch chef.
Vaquero Room
Also located in the west wing, this room boasts a unique mural paying homage to the herdsmen of Mexico and the Southwest–  the mighty Vaquero. In addition to its private bath, the Vaquero's king and twin-size beds offer an inviting rest after a day on the prairie hunting, hiking, or even horseback riding. The beautiful Spanish floor tiles give this room an old-west rustic charm, adding to your Covered S experience. Amenities include a TV, a coffee kit, bottled water, free WiFi internet access, and central heat/air. All meals are included.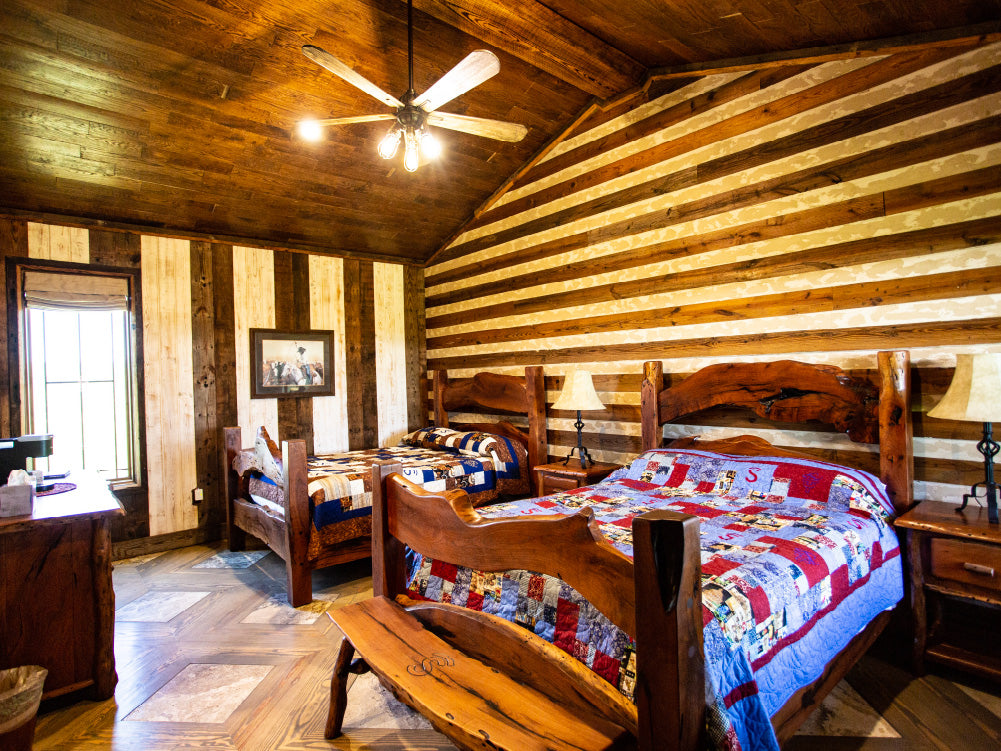 Cowpoke Room
Sleep up to four people comfortably in The Cowpoke Room. Giddyup to rugged luxury with two queen-size beds and a private bath. Custom quilted bedding and hand-carved bed posts offer a serene night's rest. Wake up to not only a majestic west Texas sunrise but your own in-room coffee maker, Wifi, television, and heating and air conditioning, All meals and drinks are also included with your stay.
Buckaroo Room
The Buckaroo Room sleeps up to four guests with two queen-size beds and a private bath. Snuggle underneath our custom patchwork Covered S quilts and enjoy a peaceful rest under the brilliant West Texas night sky. Fit for even "The Duke," the Buckaroo room is equipped with a coffee maker, water bottles, heating/AC thermostat, free Wifi, and television. Enjoy Chef Ed's gourmet cooking included with your stay.
The Bunk House
The East wing of the Hacienda is a Bunk House.  This bunk house is in true Old West style with the luxury of very comfortable beds. There are two bedrooms with 4 double bunk beds in each room. Each room has a nice bathroom with a shower. Sheets and towels are provided. Between the two bedrooms is a small kitchen and living room. The kitchen is fully equipped with a stove, refrigerator, and dishwasher.  There is an apartment-sized washer and dryer.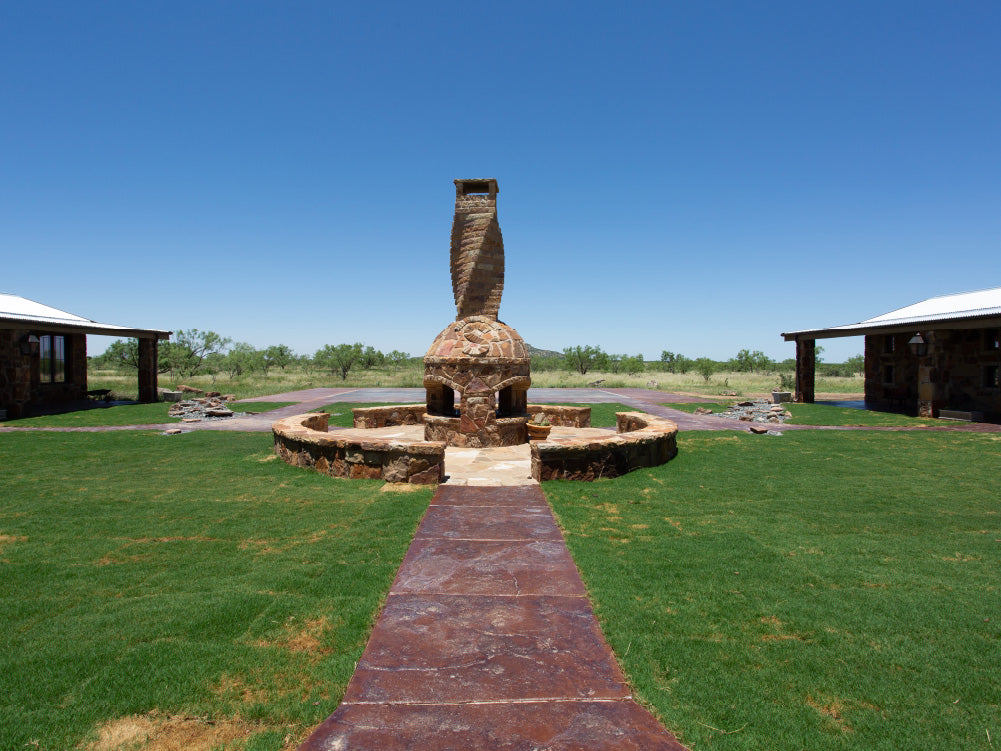 Courtyard
The Courtyard has a beautiful lawn with a large rock fire pit in the center. The fire pit can be used to cook steaks, roast marshmallows, or just sit around and enjoy the fire.  

There is also a lighted basketball court, driving range, and a fishing pond close to the Hacienda.  We have net and rackets for Pickle-ball as well. Sitting on the porch with a cold (or warm) drink while looking at the beautiful view of Flat Top Mesa is the perfect way to end a day of adventure.
In-house Chef
Get ready to indulge in an unforgettable dining experience at the Covered S Ranch! Our expert chef has crafted a menu that perfectly blends classic Texas cuisine with gourmet flair. After a day in the deer blind or just enjoying the great outdoors, there's nothing better than coming home to comforting, flavorful dishes that will satisfy any appetite. And with our rustic setting surrounded by nature, you'll feel truly immersed in the Texas charm. Don't miss out on this unique culinary experience - dine with us at the Covered S Ranch!
Corporate Events
Consider hosting your next corporate event, seminar or getaway at the Covered S Ranch
Activities
Enjoy a Variety of Activities at the Covered S Ranch